Transition Summer Staples to Fall & a Giveaway!
Hi Y'all! Who else here is ready for Fall?! I may have already started decorating… if you follow us on Snapchat (username: Ourmessytable) then you already saw the sneak peak of my Fall home decor! Even though, I am beyond ready for Fall there are some Summer staples, I just can't bare to put away and that I will be styling all year long, like this gorgeous watch. I thought I would show you how I plan on styling this watch for Fall and there is also a giveaway! So, don't forget to enter 🙂
Transition Summer Staples to Fall & a Giveaway!
How gorgeous is this watch from Jord?! I can't begin to tell you how many compliments I get when I wear it. It is made from natural wood and has a beautiful zebra pattern throughout. It goes with everything! I have been wearing it nonstop this Summer and am transitioning it to wear in the Fall by pairing it with rose gold bracelets and wearing a rust orange dress.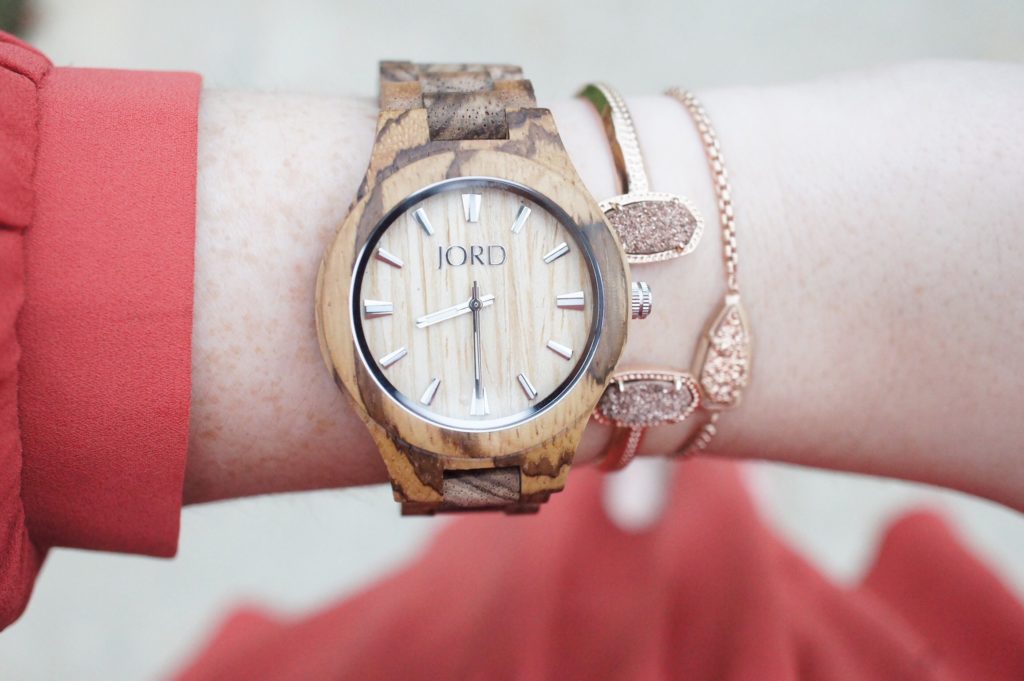 I love the packaging the watch came in, so I had to take a picture with it! haha! I am a sucker for cute packaging. These watches make great gifts too and the wood box it comes in is so unique! Once John saw my watch, he started looking at the men's line of watches. He has his eye on one… and he does have a birthday coming up!
c/o Watch | Dress | Bag | Bracelet |Bracelet|
Yay! Now for the fun part! I am so excited to have partnered with Jord on this post. They are giving away a $75 gift card to one of you! You can enter the contest here! The contest is open now and will end Sunday 9/25/2016.
Even if you don't win, Jord will still send you a $20 gift card!!! So no one will leave empty-handed. The $75 voucher will expire on 11/30/2016, and the $20 e-gift cards will expire 1/31/2017 🙂 Luxury Wood Watch
What accessories or pieces in your closet will you transition from Summer to Fall?!
Thanks so much for stopping by!