Summer is Here!
Happy Friday! This has been the craziest and most exhausting week that I have had in awhile, but there is a light at the end of my tunnel,because this weekend is a long weekend. & We will be able to kick back and relax a bit! To fully enjoy this holiday weekend and to kick off summer, John and I are headed down to Galveston to go to the beach and to stroll along the strand. And how can I start a new season without a new Summeroutfit?! That's how I came across this adorable dress from Plum Boutique. It will be so cute for a day full of shopping at the strand, coffee at Mod, and lunch at The Spot (they have the BEST fish tacos!) and this girl is a sucker for fish tacos!
Summer is Here!
I love Summer time! Bring on the beach, fish tacos, snow cones, and in my case all the stripes! My go-to Summer trend is always stripes. It never fails, it is just what I gravitate towards in the Summer. This dress totally fits my Summer criteria. It has the cutest stripes and drawstring waist, which makes it super flattering! It is the perfect dress to just throw on and it instantly looks cute, but without having to put in a lot of effort (insert the praise hands emoji!) plus, I love that it can be worn with sandals or wedges!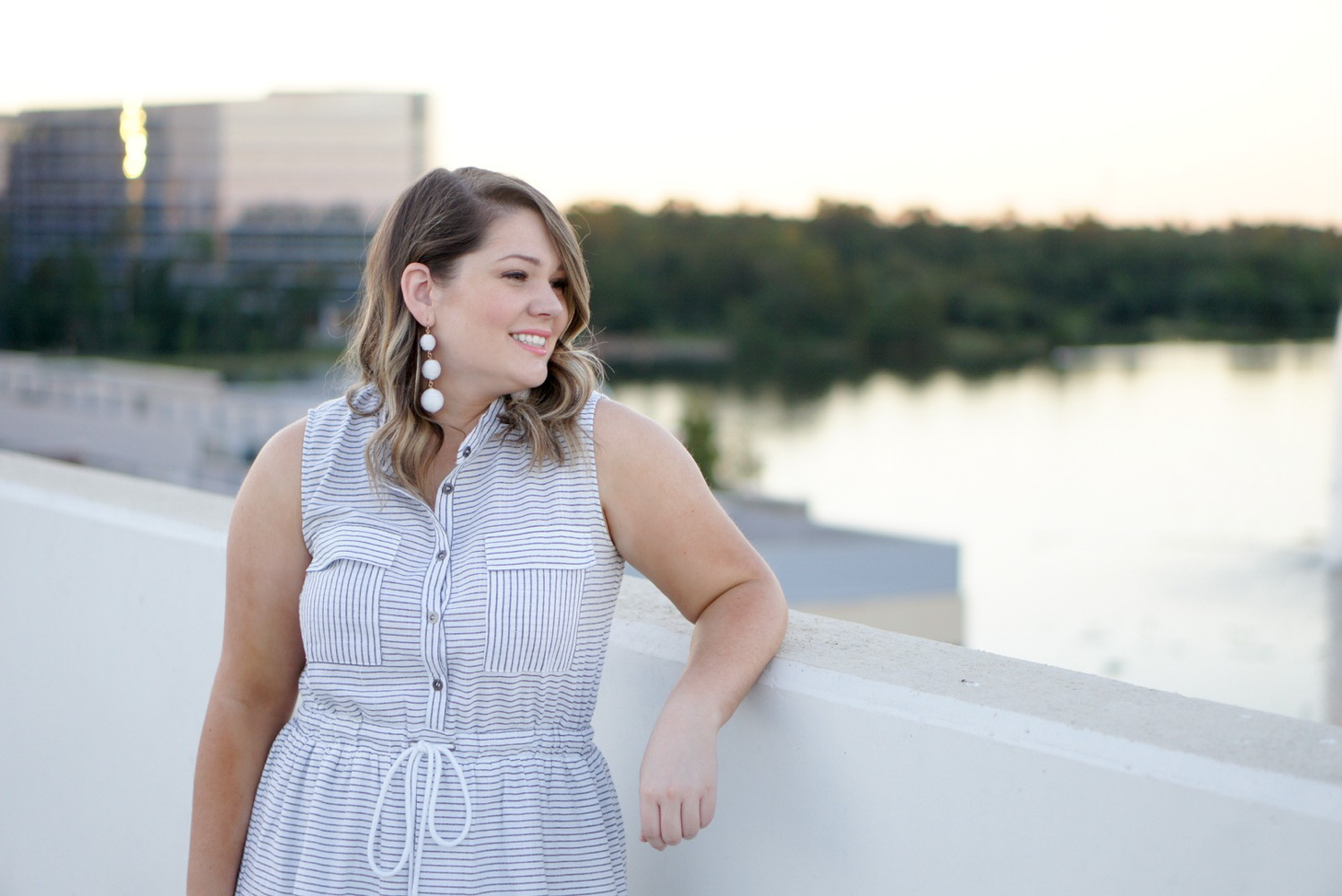 I paired this dress with my favorite earrings – they go with everything and come in a ton of colors! For this look, I decided to keep the colors neutral, but it would also be really cute with a pop of color! ( I also bought these earrings in peach!)
For a more laid back summer accessory, how cute is this hat?!? Does it not just scream lazy summer afternoons? This is going to be part of my Summer uniform, that's for sure. I think I am also going to need thisone and this onetoo!
To share a little back story with you, last year we went to Waco and made a stop into Spice Village. ( If you haven't been, it is totally worth the trip!) I went in looking specifically for Plum Boutique. Spice Village is jam-packed with so many boutiques – as I was walking through, I was instantly drawn to this one area. They had adorable clothes, home decor, wall art, etc. it was totally my kinda store and then I see the sign that it was Plum Boutique -the boutique, I had been looking for! I have been a huge fan of their's ever since that trip, so when they reached out to me to work with them, it totally made my day. I always only share things with you that I love and this case is no different. This is a shop that I shop at and absolutely love.
I'd love to hear what your go-to Summer staples are and also if you have any fish taco spot recs, send them my way!
Thank you so much to Plum Boutique for partnering with me on this post! As always, opinions are my own.