Galentine's & A Giveaway
Galentine's & A Giveaway
With Valentine's right around the corner, I teamed up with two of my blogging besties, Bridget from To Celebrate Everythingblog and Kelsey from Kelsey Byersblog for Galentine's to share our thoughts on friendship, Galentine's ideas, and of course our cute dresses from Francesca's!I may have gotten a little carried away with this post, so grab a snack and stick with me to the end for a super fun giveaway announcement!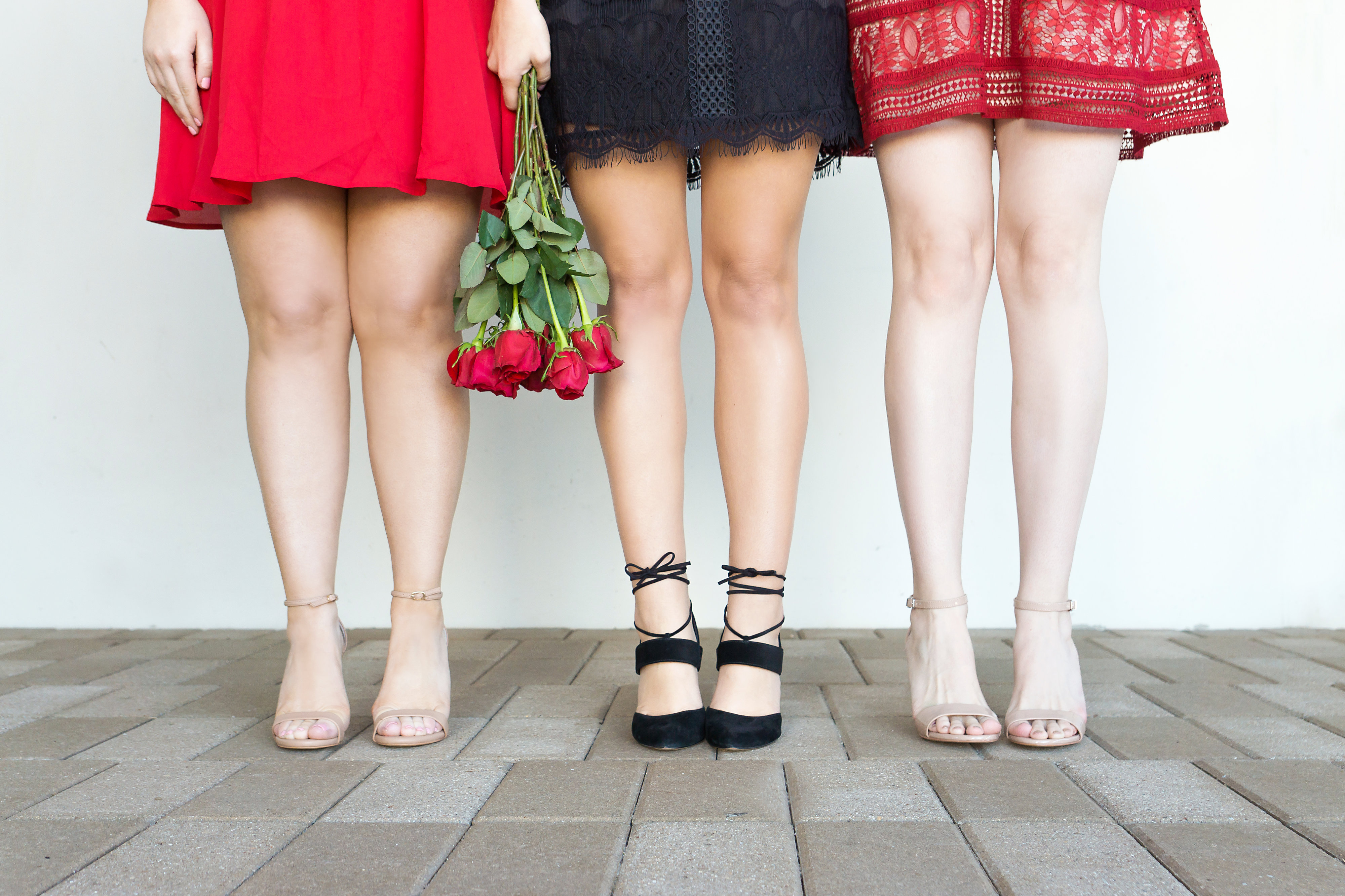 I am so thankful for these two girls! As you grow older, friendships are hard to come by. It isn't as easy as it used to be when we were in high school and college and you were surrounded by your friends every day. When you find your #squad – the people in your life who love you, encourage you, and dream with you it takes effort and work to keep those relationships, but it is so worth it.
I honestly hadn't celebrated Galentine's before thisand now I am wondering whyyyyyy not?!I mean, a holiday that you get to get all dolled up in cute dresses, go tobrunch,hang out, drink champagne, have sweets or even schedule a photoshoot with your girls – count me in every year!
As much as I love makingGalentine's a big celebration with my gal pals, I also think we should strive to celebrate our friends all year long. I know with work and family etc. friendships tend to be the thing that gets shoved off to the side. So, I wanted to share a couple ways I try ( again, try – I am not perfect and totally am the first to admit, I can get too wrapped up in what I have going on in my own life) and celebrate my friendships during the year even with a busy schedule.
Mani/pedi – Anytime I go get my nails done, I always send a quick text to a friend to see if they are in as desperate need as I am. I know not all of your friends may live close by, but at least the ones that do, I try and just see if they have a free hour. Knocks something off my to-do list and I get to relax and chat with a friend!
Coffee Dates- It is no secret, I love coffee and coffee shops. So, if I have a morning or an evening I need to get a couple things done and am going to go to Starbucks, I send out a no pressure text to let them know I'll be at the bucks if they wanna stop by and hang out or even work! ( Helps that these two girls are also bloggers, which means there is always something to be done and it is nice to have someone to bounce ideas off of!)
Brunch- Even if it is just once a month or every two months – set up a brunch with your girlfriends. Try a new place or go to an old favorite, whatever it maybe you will always leave feeling so fulfilled.
Girl's night-I need to plan another one! My last one was so much fun. In December some of the girls came over and we made Christmas bows ( here is a video of how to do one, you can actually use it for any occasion and not just Christmas!) So grab a bottle of wine or even these Cotton Candy Cocktails and have a fun girl's night!
Snail Mail- This is great for the friends you can't see all the time, but really want them to know you are thinking of them! I need to start doing this again. Last year, I made a goal to sit down and send out a couple cards once a month to family and friends.
Set Reminders- I try and set reminders in my phone when I know a friend has something important going on in their life. Whether it is a birthday, stressful meeting with their boss, ultrasound appointment etc. anytime they mention something like that to me, I try and write it down and set a reminder to touch base with them and to pray for whatever it is.
Be encouraging-A little encouragment goes a long way. Even if you don't understand what your friend is going through, would have handled a situation differently, or maybe they have a dream that you just can't even begin to understand. Despite whatever you are feeling about it, be that person that can be happy and encouraging for them and take an interest in your friend's lives!
Okay, you know I had to take a quick second to gush about my dress from Francesca's! I love the lace detailing on the top, the short sleeves, and how it has a high waistline!It is super affordable (On sale for under $25!) and perfect for any Galentine's or Valentine's plans you have. Stay tuned, next week I will be sharing this full outfit and also a casual valentine's outfit on the blog too!
Bridget, Kelsey, and I will be sharing a giveaway on our instagram'stoday, giving one of you the chance to win a $50 Francesca's gift card to go get an awesome dress for Galentine's/Valentine's day!! Keep an eye out on myinstagram for details on how to enter <3
Alright, this has to be the longest post I have ever written! Thank you for sticking around. I would love to know what your plans are for Galentine's or how you celebrate your friendships throughout the year, leave me a comment below!
Thanks so much for stopping by! If you haven'talready, make sure to stop by Bridget andKelsey's blogs. They are sharing their thoughts and ideas on Galentine's too, as well as their super cute dresses! Sidenote: I am glad we are friends, because I definitely want to borrow both of their dresses haha!
Photocredit: Diamond Oak Photography
Thank you so much to Francesca's for collaborating with us on this post. Opinions are 100% my own. (The giveaway is in noway affiliated with Francesca's, we just love you guys and really wanted to give one of you a gorgeous dress for Valentine's!)