Easter Bunny Tablescape
I love decorating for Spring and Easter. Okay, who am I kidding – I love decorating for EVERY season haha! But, I especially love Easter!I try and keep my decorations minimal and clean looking. So, I choosewhite, cream, burlap, with hints of a pastel blue and of course a ton of bunnies! Here is a look at my Easter bunny tablescape.
Easter Bunny Tablescape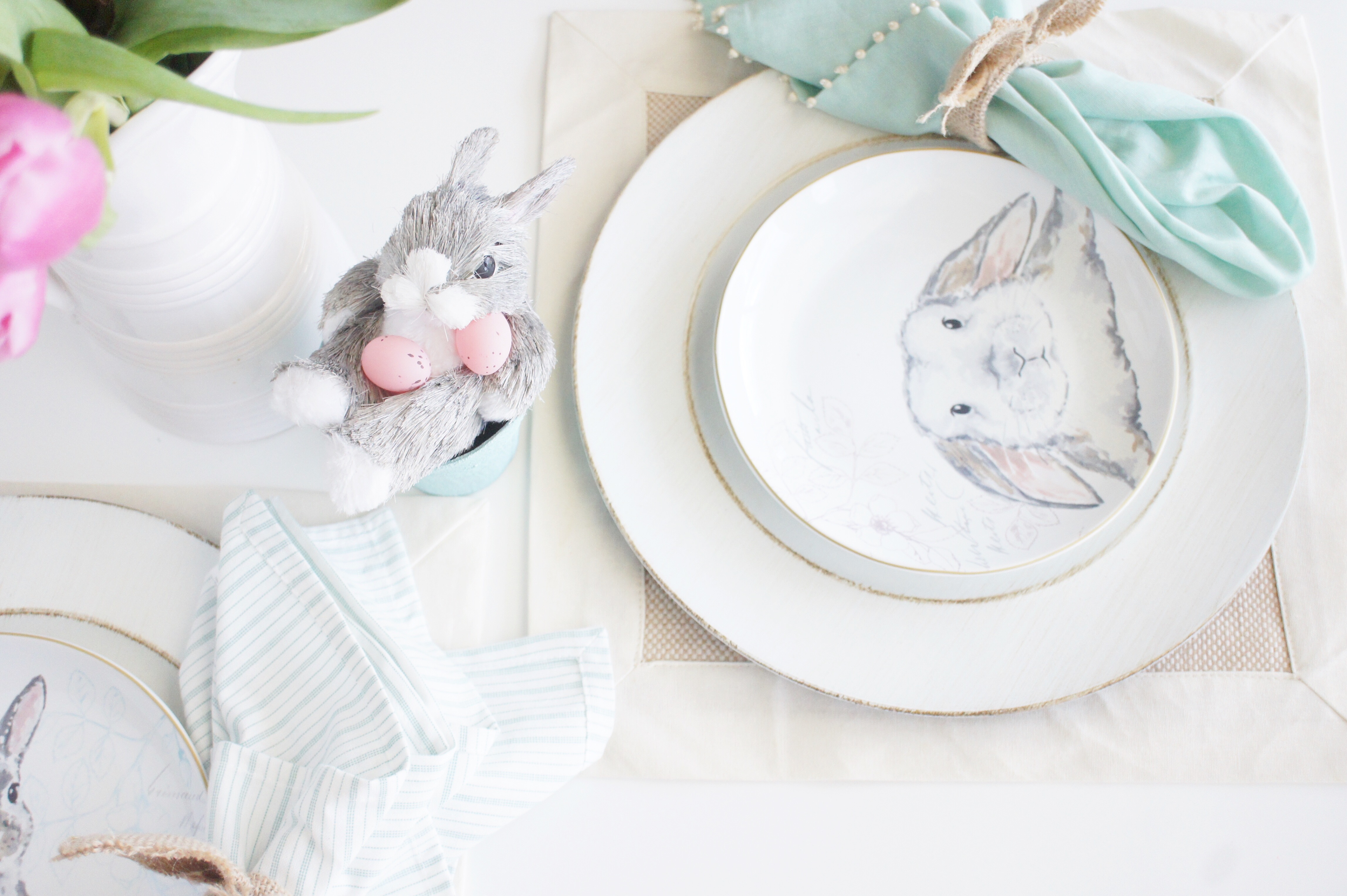 I went with two different napkins and mix and matched with the stripes and a solid.
I honestly hadn't planned on redoing my table for Spring, but back in December I returned Christmas plates ( my sweet Meme surprised me with the cutest puppy Christmas plates and I actually had just bought them for myself! Total proof that we are basically the same person and I get all my décor style from my 91 year old great grandmother! haha!) Anyways, that was a long way of saying that I had a gift card left over from the return and when I went into Pier 1, I saw these little bunny plates! Next thing I know, I am changing my entire table décor for Spring!
You may still be able to find these plates in your local store. They are no longer online, but I also love these, which are more colorful and not as muted and these are more traditional!
I found this little guy at Michael's! How cute is he?! When it came to the centerpiece, I kept it really simple by using a white pitcher filled with pink tulips. Then I put him next to it and added the grapevine carrots. Tip: When decorating the middle of the table with multiple things, I like to use 3 objects that are all different heights.You could also just use the flowers and that would have been plenty!
I found this moss bunny years ago and just stuck it down into the centerpiece! He kind of blends in, but it was just a cute extra little detail!
I found these burlap bunny ear napkin rings at Hobby Lobby, but they also have similar ones at Pier 1.
I would love to see your Easter tablescape! Tag us on Instagram and use the #omthome, so we can take a look! Hope you all have a wonderful weekend.
Thanks so much for stopping by!