Things to Roar About
Last month I started a new series on the blog, Things to Roar About. If you missed it, each month I will share a style, trend, beauty products, or a décor that I am loving and roaring about! So, here are some of my favorites for October!
Things to Roar About
I just adore these dainty earrings and matching necklace from Kendra Scott. They were a bridesmaid gift I received this Summer and they just go with so much. & this print from Hey Bernadette is propped up on my desk and won't be leaving anytime soon!
Let's talk about this cute little pineapple dish!! I don't think I can even put this away during the Fall/Winter, it is going to have to stay out on my dresser and hold everyday accessories.
(Please excuse the toes prints on these shoes!) Obviously, I have worn them ALOT. They are hands-down the most comfortable heels I own. The color goes with just about everything and I love that they tie-up the ankle! I am soready to transition these to Fall.
I can't even count how many times I have used this purse this year! I still love it.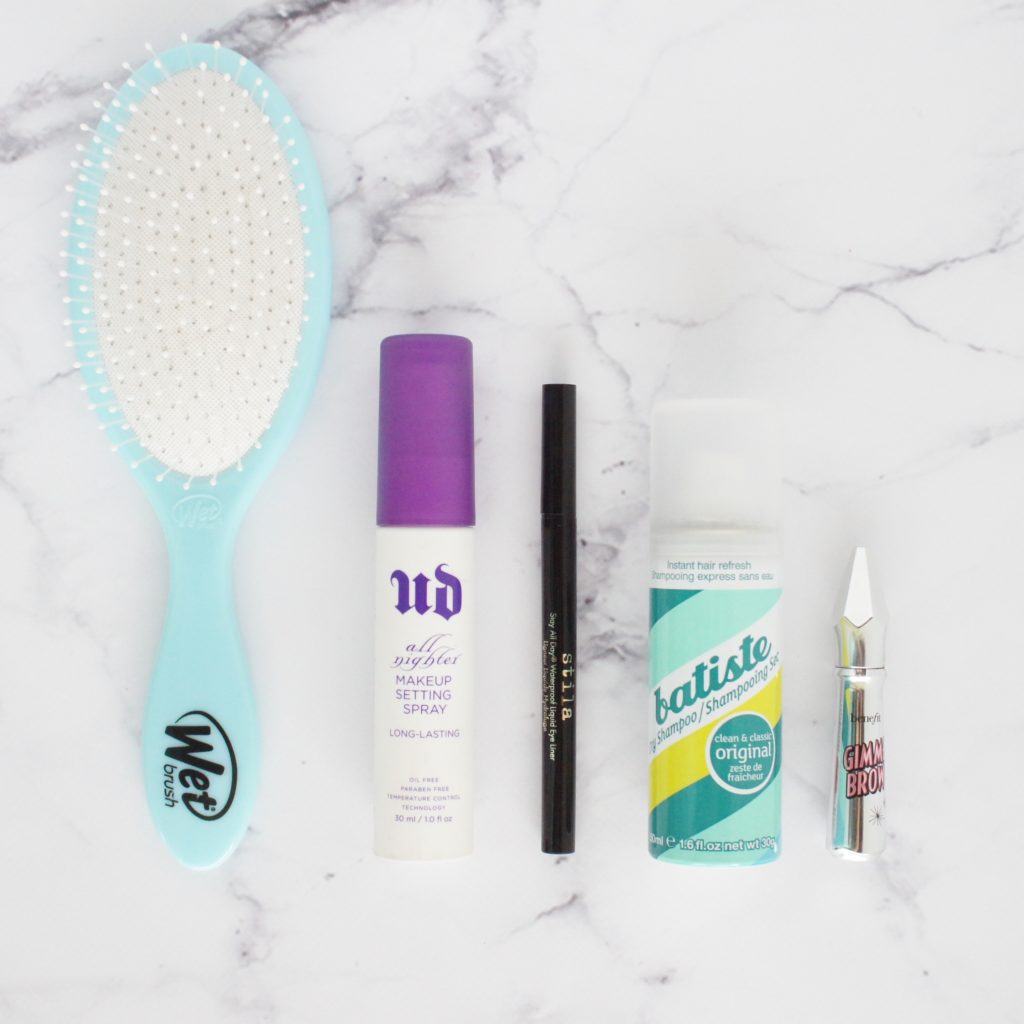 All of these are staples in my beauty routine. This brush has been AMAZING. My hair is always so tangled when it is wet and it has helped untangle my hair without pulling as much out. ( Also, it is easy to clean the hair out of the brush.)
I love the travel size Urban Decay Setting Spray when traveling. I usethe normal size everyday, but love the smaller one for traveling.It helps my makeup stay on longer and feels so refreshing when I spray it on my face. It is my favorite step in my beauty routine haha!
If you have trouble with winged eyeliner – then this eyeliner is your new best frand! It is very easy to control and it doesn't dry out very quick. If you like a matte eyeliner, then you probably won't like this as much – it leaves a very glossy finish.
This dry shampoo is a lifesaver and the price point is amazing!
Gimme brow is my FAVORITE brow product for a natural look. I literally don't ever leave the house without it and the new packaging is so cute!
I would love to know what y'all think of the new series! Thanks so much for stopping by!
Some of the links in this post are affiliate links, which means that if you click or purchaseOur Messy Table may receive commission. All opinions are always my own.